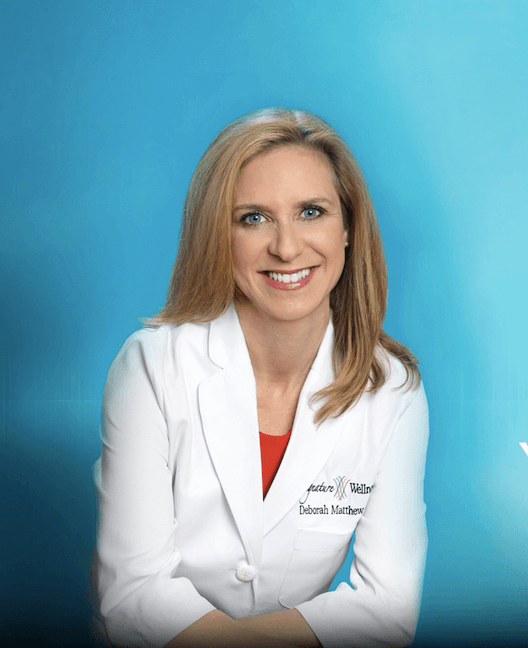 Deb Matthew MD, America's Happy Hormones Doctor, wears many hats as a best-selling author, international speaker, private practice doctor, wife, and mom of 4 boys. She helps her patients restore their health by addressing the root cause of their symptoms (including hormone imbalances!) instead of just treating diseases with drugs.
After suffering for years with exhaustion and irritability that prevented her from being the wife and mom that she wanted to be, she refocused her medical career to help others get their hormones back in balance.
Dr. Deb combined her background in medicine with her interest in fitness and nutrition to create a complete medical wellness approach using scientifically-based treatments to help her patients restore their energy, libido, mood, and memory, as well as lose weight and discontinue many of their prescription medications.
As a leader in this field of medicine, Dr. Matthew has proven her level of knowledge repeatedly. She is a Diplomat of the American Board of Anti-Aging and Regenerative Medicine (ABAARM), and the American Board of Integrative Medicine (ABOIM). In her role as an oral board examiner for the ABAARM, she tests other doctors to see if they have the knowledge to become certified as a specialist in this area. She has presented lectures about hormone therapy to forward thinking medical doctors across the US, and around the world in places like Bangkok, Bali, and Dubai, and has had the honor to speak at Harvard where she shared the stage with Suzanne Somers.
As Past- President of the North Carolina Integrative Medicine Society, she helps support Integrative/Functional Medicine practitioners in the community and has a goal of shifting the standard of care in medicine towards creating wellness.
Interested in becoming a patient?